Line 7:
Line 7:
 
 
 

The Haunted are typically somewhat easy to dispatch - because they move in a slow haze, they are often easy targets, though certain Haunted have the ability to run and sprint at a moment's notice, so the player should never take this for granted. They can wield weapons such as knives, bottles, axes, shotguns, and more, but are typically fond of using their sharpened appendages and bare hands. Failing to shake off a Haunted engaging Sebastian in a physical struggle results in massive, unavoidable damage.

 

The Haunted are typically somewhat easy to dispatch - because they move in a slow haze, they are often easy targets, though certain Haunted have the ability to run and sprint at a moment's notice, so the player should never take this for granted. They can wield weapons such as knives, bottles, axes, shotguns, and more, but are typically fond of using their sharpened appendages and bare hands. Failing to shake off a Haunted engaging Sebastian in a physical struggle results in massive, unavoidable damage.

 
+
 
+

==Gallery==

 
+

<gallery>

 
+
 
+

File:EvilWithinHasALLTHEBARBEDWIRE-620x248.png

 
+

File:zyekjsbdnfkuabsndtgibal (4).jpg

 
+

File:wKfWP2P.jpg

 
+

File:WkeEM3n.jpg

 
+

File:tumblr_mnkoqsYtxe1soa4pro1_500.jpg

 
+

File:the-evil-within-wallpaper-1.jpg

 
+

File:TheEvilWithintorch_2923070b.jpg

 
+

File:The-Evil-Within-1.jpg

 
+

File:evilwithin-810-610.jpg

 
+

File:Evil_Within_Voice_Cast1.jpg

 
+

File:BvH0BYMCUAANZaD.jpg

 
+
 
+

</gallery>
---
Revision as of 20:39, 15 October 2014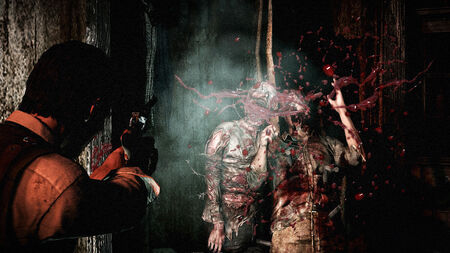 The Haunted of The Evil Within are enemies regularly encountered by Sebastian Castellanos.
Summary
The Haunted are the main enemies encountered by Sebastian Castellanos. They are often designed specifically to be as gruesome and grotesque as possible, with designs heavily favoring nails through the skin, barbed wire wrapped bodies, bleeding orifices, and more. They are patients of Beacon Mental Hospital that have succumbed to the various experimentations performed by Ruvik and his staff. Team member Shinki Mikami has said that they have undergone grotesque mutation, and are merely expressing the evil of Ruvik and their internal demons through external means. Some haunted have glowing eyes, which typically indicates they are more powerful than their regular counterparts.
The Haunted are typically somewhat easy to dispatch - because they move in a slow haze, they are often easy targets, though certain Haunted have the ability to run and sprint at a moment's notice, so the player should never take this for granted. They can wield weapons such as knives, bottles, axes, shotguns, and more, but are typically fond of using their sharpened appendages and bare hands. Failing to shake off a Haunted engaging Sebastian in a physical struggle results in massive, unavoidable damage.
Gallery