Ruvik
---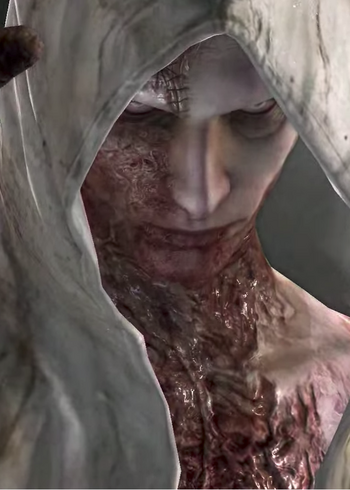 ---
| | |
| --- | --- |
| Status: | Alive |
| English Voice: | |
| Japanese Voice: | |
Ruvik is the primary antagonist in the world of The Evil Within.
Summary
Shortly before the events of the game, Ruvik was conducting various experiments on the mentally insane at Beacon Mental Hospital. After his research was stolen and he was killed, he created the twisted world which Sebastian Castellanos finds himself in throughout the course of The Evil Within and is largely responsible for the STEM system which allowed it.
He is first seen in-game when Sebastian looks on the security cameras, and sees Ruvik massacre the guards. After killing them, Ruvik suddenly looks at the camera, and seems to teleport behind Sebastian, knocking him out and transporting him into the twisted world.
Various audio tapes and letters seem to indicate that Ruvik was once in control of his powers, seeking only revenge against those who wronged him, but at some point, he lost this control, turning into the insane creature he is now. Though he is technically alive, his rage and anger has allowed him to carry on.
In Game
Around Chapter 4, Ruvik begins to show himself as an active antagonist. Starting with stalking the player and appearing in the distance, Ruvik eventually escalates his violence by attacking the player.
When Ruvik is about to appear, several environmental effects happen, including loss of power in the immediate area, a localized shockwave, a blue shift, intensified music, and scattering enemies. Various flashbacks in several stages, notably the mansion level, hint at the true nature of Ruvik as a peaceful boy driven to hatred by his father's religious oppression and the various betrayals faced throughout his life.
Strategy
Dealing with Ruvik head-on is all but impossible - because he has the ability to "blink" from one location to another, he is impossible to hit, and even when hit, seems to not react. Most encounters with Ruvik outside of his creature forms are story driven, and require the player to simply back or run away.
Do NOT waste your ammo on Ruvik - they will have little to no effect, and will only serve to reduce your ammo for later, more useful engagements with creatures and bosses.
Gallery