Joseph Oda
---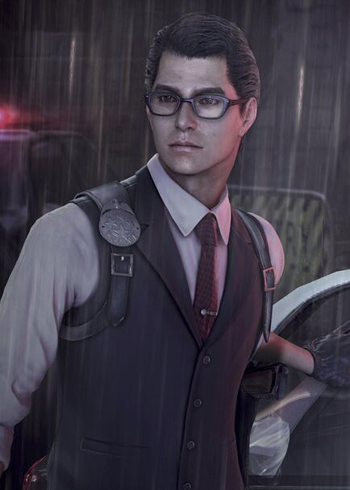 ---
| | |
| --- | --- |
| Status: | Alive |
| English Voice: | |
| Japanese Voice: | |
Joseph Oda is one of the primary protagonists of The Evil Within. He appears as a side character and occasional-antagonist in The Assignment, The Consequence, and The Executioner DLC.
Summary
Joseph Oda is partnered with Sebastian Castellanos and Julie Kidman at the Krimson City Police Department. At the beginning of The Evil Within, the trio are sent to Beacon Mental Hospital to investigate the scene of a mass homicide. Upon finding the crime scene and responding cop cars deserted, they are attacked by Ruvik and separated from each other.
The Evil Within
In Chapter 5, Oda finally reappears, and acts as an ally to Sebastian. In time, it is discovered that he is infected by The Haunted, and he attacks Sebastian, which Sebastian forgives once Joseph comes to. Joseph is helpful in disarming traps, but he ultimately becomes a tactical disadvantage, allowing his emotion to trump reason several times.
After Joseph is again captured by The Haunted, Sebastian must snipe the two executors at the guillotine to save him. After this, Joseph takes Sebastian's gun and attempts suicide, saying that his death is inevitable. After Sebastian wrestles the gun away, they go on to rescue Julie.
Eventually, Joseph is shown succumbing to The Haunted outside the Church on their way to fight Ruvik. Sebastian injects him with a healing syringe, which renders him unconscious. His ultimate fate is as of yet unknown.
DLC: The Assignment
DLC: The Consequence
DLC: The Executioner
The Evil Within 2
The Art of the Evil Within
| | | |
| --- | --- | --- |
| " | "Sebastian's steadfast partner of many years. They have opposing personalities, but the contrast works in their favor, although occasionally Joseph has to help keep Sebastian in line. He is kind to others but hard on himself, and he doesn't give up on something once he's committed to it. When Sebastian looked like he was in danger of losing his badge, in an effort to save him from that fate, Joseph took the only choice he thought he had left and reported Sebastian to Internal Affairs." | " |
| | ~ Joseph's backstory in The Art of the Evil Within | |
As revealed in the Art of the Evil Within artbook, Joseph and Juli were originally included in the story as prisoners. Ikumi Nakamura, the lead concept artist of TEW, gives some (tenuously canon) insight into Joseph's character:
"Joseph Oda is from Toronto, a second-generation Japanese Canadian. His family is descended from ninjas. His glasses are a keepsake from his grandfather. There is something special about his glasses. For breakfast he eats buttered toast with nori. He only speaks a little Japanese."
It is also claimed in the artbook that Joseph is married and has a daughter. Neither are mentioned in any of the games. In fact, in a journal entry from Sebastian in TEW1, he shares that he thinks Joseph has a crush on Juli; one would hope that this would not be a suspicion of Sebastian's if Joseph was married.
Gallery
Trivia
According to the Art of the Evil Within artbook, Joseph's surname is taken from Oda Nobunaga, a powerful 16th-century Japanese shogun.