Hatchet
---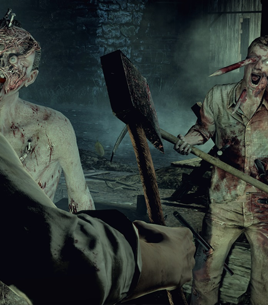 ---
| | |
| --- | --- |
| Damage: | High |
| Accuracy: | High |
| Rate of Fire: | Low |
| Recoil: | Low |
| Stock Magazine: | 1 |
| Stock Max Ammo: | 1 |
Single use melee weapon. Powerful, deadly.

The Hatchet is one of the weapons in The Evil Within.
Summary
The hatchet is one of the secondary weapons for Sebastian Castellanos. It is a powerful, one-time use weapon that can take down most of The Haunted in a single strike. It is typically found on dead Haunted as a weapon they prefer to wield, but can also be found in buildings and on the ground.