Inner Recesses
---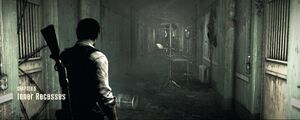 ---

Chapter 5 - Inner Recesses is the fifth chapter of the game The Evil Within.
Archives
Locker Keys
Once in the lower part of the Asylum, look for a rat running around with a statue on its back. Shoot the statue (and the rat, if you'd like) for the key.
Once you save Julie Kidman from drowning, move to the cell area and check the third cell on the right. Here, there's a statue, but you'll have to break the lock to get in.
Once you've recovered both Julie and Joseph Oda, fight the enemy that appears. She'll chase you down a hall. After you defeat her, go to the room you first encountered her in, and open the locker to get a statue. Shoot the bat that is carrying it to get the key.
See also