Claws of the Horde
---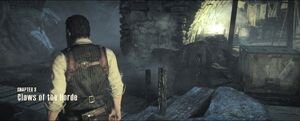 ---

Chapter 3 - Claws of the Horde is the third chapter of the game The Evil Within.
Archives
Locker Keys
In the Village, move towards the tower. Climb it, and at the top you'll find supplies. Look down near the ladder and you'll also see a statue, which when shot, will give you a key.
At the barn where The Sadist attacks, climb the ladder to the second level. There's another ladder here that will take you to the third level. Here, shoot the statue and collect both the key and the supplies around it.
Kill the enemy sniper, and move to their location. Here, you'll see a statue on the left. Shoot it for a key.
When you have to open the main gate, go to the house to the left. Go up the stairs and onto the balcony. Look at the power line, and you'll see a statue. This one is hard to spot, as it looks like a bird or even a piece of flesh from one of The Haunted.
Gallery
See also