Remnants
---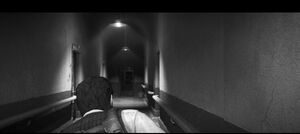 ---

Chapter 2 - Remnants is the second chapter of the game The Evil Within.
Archives
Locker Keys
After Leslie runs off, walk to the fire near a gate. To the left of that gate, on the wall, there's a white statue. Break it to get a key.
In the house near The Haunted huddled around a fire, there is an enemy with a sick;e. Kill him, and look near the sink for a box. Inside that box is a key.
Gallery
See also