Bodies Found
---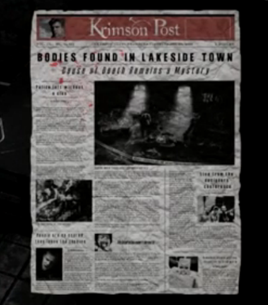 ---
Newspaper found during Chapter 2.

The Bodies Found in Lakeside Town are one of the items in The Evil Within.
Summary
This newspaper is found at the start of Chapter 2.
Contents
BODIES FOUND IN LAKESIDE TOWN. Cause of Death Remains a Mystery.
More than a dozen mutilated bodies found in village of Elk River. Several residents unaccounted for.