Amalgam
---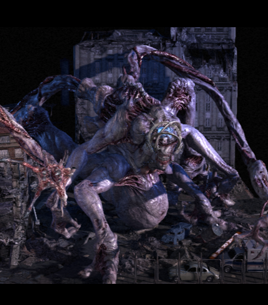 ---
| | |
| --- | --- |
| Height: | 68'11" (21m) |
| Weight: | 320 tons |
The ultimate combination of fear, hatred, and loathing.

Amalgam is one of the Bosses in The Evil Within.
Summary
A creature that combines the anger and animosity of the victims of Ruvik's research and his own madness. It grows larger as it absorbs the fear and hatred around it.
Stages
The Amalgam has several stages. The first is simply known as "Amalgam". The following stages are its next forms:
Amalgam Core - Buried deep within the creature's body, Ruvik is only vulnerable when it opens its head, exposing the core.
Amalgam Alpha - The final consciousness of test subjects who died while connected to the STEM, combined into one single, horrific shape. It attacks anything that moves, attempting to flee from certain death.